Alternate Led Flasher
---
Given Below is the circuit of "Alternate Led Flasher".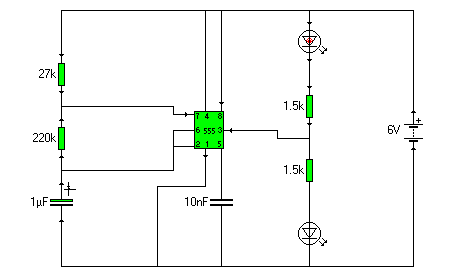 Here are the components you require to make this Electronic Kit:

Parts List:
one IC 555 timer
one 27k resistor
one 220k resistor
two 150E/1.5k resistors
one non-electrolytic 0.01 Micro farad/ 10 nano farad capacitor
one electrolytic 1 Micro farad capacitor and

two LEDs (Preferably one red colour and one green colour) and ofcourse 6V batteries.
What does this circuit do?
Once you wire up the connection properly and connect it to a 6V battery source, the Two LEDs start flashing alternately. i.e. If one led is on, the other one is off. So we get the feeeling that the bulbs are flashing alternately.
---
[Goto Main]